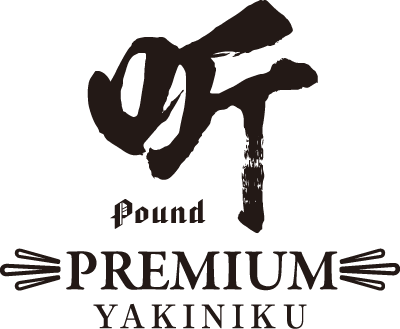 premium yakiniku gion pound
everything is the highest peak
yakiniku that goes beyond yakiniku that overturns common sense.
we lavish our skills and provide supreme domestic wagyu beef in
the best condition.
Luxury
worthy of the name of premium, we offer luxurious private rooms.
the best "moment" with the best "space".
Food
听 King's Jade Hand Box
A gem suitable for "King" who luxuriously uses "A5 rank" black wagyu beef, which is the highest quality beef that meets strict standards. A5 fin 6,380 yen / A5 sirloin 4,950 yen

听 a platter of exquisite black wagyu beef that the craftsman of the 听 who knows the best taste
meat has carefully selected and selected. 7,480yen

special calvi

1,738 yen

upper calvi

¥1,408

special loin

1,650 yen

top loin

1,320 yen

special red meat

1,320 yen

wagyu beef tongue

1,980 yen

和牛ハラミ(タレ)

1,848円

てっちゃん(塩)

858円

ミノサンド(塩)

825円

上ミノ

803円

レバー

748円

天肉(塩)

660円

ホソ(塩)

660円

アギ(塩)

660円

タンユッケ

1,650円

ユッケ

1,518円

キムチ盛り

1078円

听サラダ

880円

カルビのカルパッチョ

1,650円

石焼ピピンバ

825円

冷麺

935円
in addition to the above, we have a variety of dishes such as one-dish dishes, soups, desserts, etc.
Drink

we offer wine, champagne, whiskey, sake, shochu, and others carefully selected from all over the country.
*soft drinks are also available
Access
premium yakiniku gion pound
290-6
Dojo Building 1F Room B
075-531-2029 on the north side of Gion-cho, Higashiyama-ku, Kyoto
business hours
17:30-25:00 (L.O 24:30)
Regular holiday: Sunday
Due to the spread of new coronavirus infection, business hours and regular holidays may differ from those listed.
Please check with the store in advance when you visit.